Awards to the Best in 2016
The prices to the awarded were presented by: Antonín Seďa, General Josef Bečvář, Maj.-Gen. Drahoslav Ryba, Brig Petr Dohnal, Tomáš Kuchta, Jiří Hynek and Lt-General Jiří Baloun – 1st Deputy Chief of General Staff of Armed Forces of the CR. The master of award giving ceremony was Jan Pejšek, Director of the Communication Department of the Czech Ministry of Defence.
At the beginning, the Editor-in-Chief of Review magazines and MS Line director Šárka Cook presented "Acknowledgement of long-standing support to MS Line Publishing House's media activities" to Tomáš Kuchta, deputy minister – Head of the Industrial Cooperation and Organisations Management Division at the Czech Ministry of Defence, Brig Miloš Svoboda, deputy director general for prevention and civil emergency preparedness of the directorate general of Fire Rescue Service and to Jaroslav Pecháček, AOBP vice-president and SWORDFISH s.r.o. executive director. A Commemorative Certificate for TESLA a.s. Company that marked 95 years since its establishment in 2016 was given to TESLA a.s. president František Hála and military telecommunication technology division director Michal Nováček.
NEW PRODUCT OF THE YEAR
PK 4 (KAGA) – Mobile field kitchen by AGADOS
Award received by AGADOS executive Petr Ostrý and General (ret.) Pavel Štefka.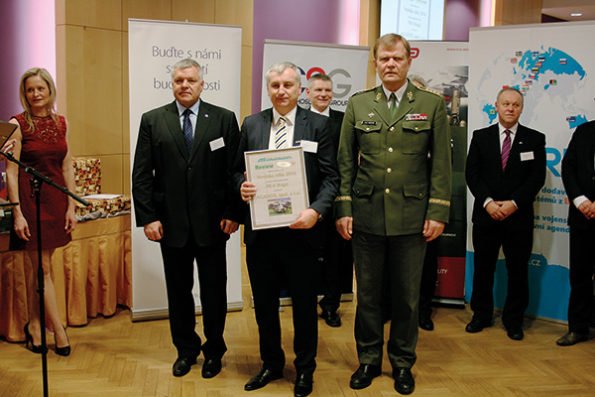 After 60 years, AGADOS has developed a new field kitchen PK4. Using the latest technology and materials the field kitchen can move through difficult terrain, easily deploy and put in operation and is flexible to make a vast scale of food.
AGADOS Company seated in Velké Meziříčí is the leading and traditional Czech trailer maker with experience of special projects for foreign military forces (e.g. Sweden, Qatar, and others). Special trailers have been fielded by the Czech military, police and Fire Rescue Service units.
AGADOS works on other projects of the kind to be presented at IDET, PYROS and ISET exhibitions in 2017.
PRODUCT OF THE YEAR
AGS System by RETIA, a.s.
Award received by RETIA a.s. general director Petr Novák.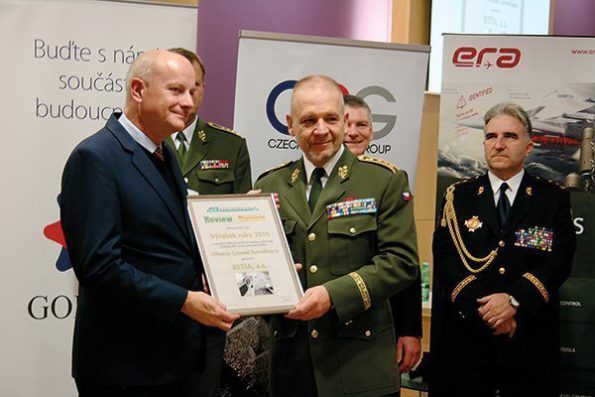 RETIA, a.s. handed the last special mobile Alliance Ground Surveillance (AGS) operator unit over to the North Atlantic Treaty Alliance in the last year. AGS should be the pillar of NATO forces protection in the theatres. This supply completed RETIA's challenging order place by NATO demonstrating its affiliation with the leading makers of special electronic systems in the Czech Republic and in the global scale. The instrument comply with the strict NATO security requirements for information security and top technology know-how.
IMPROVEMENT OF THE YEAR
GUMOTEX a.s. Company
Award received by GUMOTEX a.s. sales manager Radim Krmíček.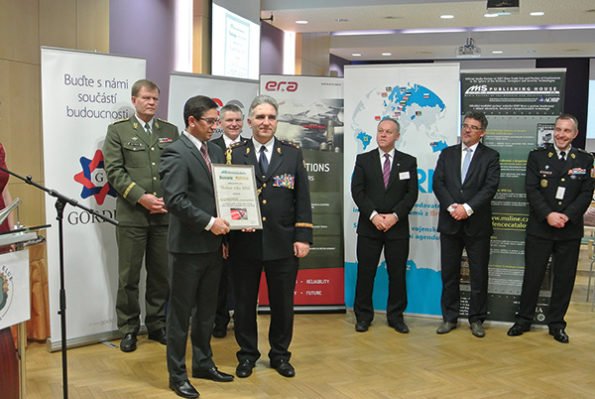 The GUMOTEX Rescue Systems products have been helping to save human lives and property in crisis for over 20 years. They are tested under difficult conditions by the first respondents themselves. The new products within GUMOTEX Rescue Systems inflating tents certainly comply with the strict criteria applied by NATO member forces.
MANAGER OF THE YEAR
Igor VALNÍČEK, EVPÚ CEO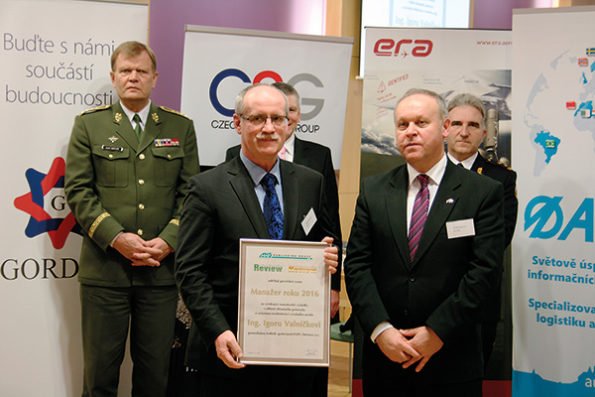 In 2016, EVPÚ Defence a.s. marked the 15th anniversary since its establishment and produced the largest amount of manipulators in its history settling the record to 524 pieces for many customers all over the world. The most selling manipulator type is text-align: justify; font-size: 9px; line-height: normal;">We thank general director for long-lasting using our media to present the production and trade activities of EVPÚ Defence.
MANAGEMENT TEAM OF THE YEAR
AURA, s.r.o. Company
Award received by AURA, s.r.o. general director Filip Engelsmann and executive director Zdeněk Buřival.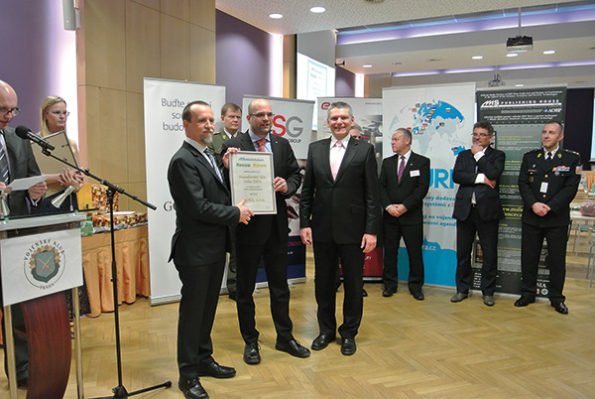 AURA, a truly Czech company, has aimed its main activities at the development of information systems and their implementation in armed forces, industry, distrainment offices and public administration.
Looking especially from the export point of view AURA finds the year 2016 successful. The company completed supplies of codification systems to Sweden, Australia and Algeria, ran a four-month codification course for Algeria military officers, provided arrangements and information for the third international codification courses of NCS College 2016 in Brno and in late 2016 started working on the implementation of MC CATALOGUE 5 codification information system for United Arab Emirates armed forces.
It is obvious that AURA management led the company to provide pro­ducts and services of such a high quality so much that it became the world leader in codification and contributed thus to promoting truly Czech products in the world.
PERSONALITY OF THE YEAR
Josef TICHÝ, EXPLOSIA a.s. president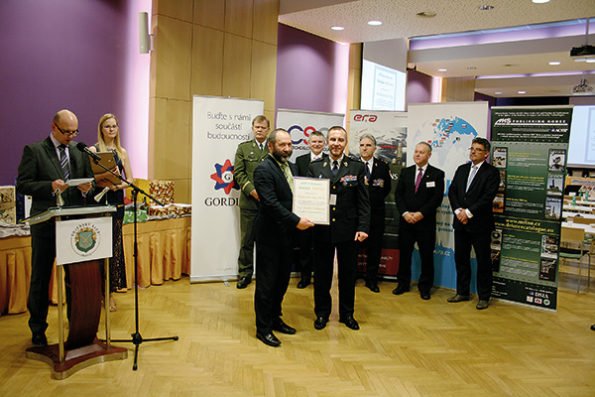 Under the leadership of its president Josef Tichý, Joint-stock company Explosia has achieved the 2016 turnover exceeding 900 million in the Czech currency. Such a sum is just a short way to the magic billion, which is planned in 2017. The company wants to attain further expansion through the new hall intended for fully combustible propellant charge cases production among others. It is now purposefully moder­nizing its production of smokeless powders to be able to cover the growing demand. For the same reason, it means growing demand, it increased the capacity of spherical powder shop already in 2015 and in 2017 it plans to put in operation a testing line of new technologies to be able to intensify the preparation of combustible ammunition parts and to respond faster to the new trends in large calibre ammunition, especially concerning the modular propellant charges for 155 mm calibre cannon howitzers.
COMPANY OF THE YEAR  
CZECHOSLOVAK GROUP Holding
Award received by CZECHOSLOVAK GROUP Holding sales manager Aleš Klepek.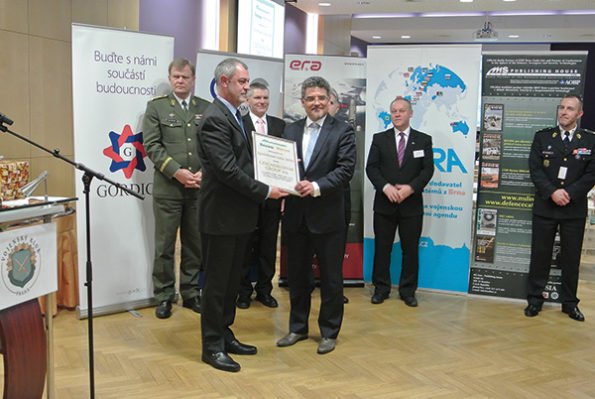 CZECHOSLOVAK GROUP (CSG) is a holding resuming the Czechoslovak industry tradition and joining the traditional Czech and Slovak companies of defence and civilian industry production. CSG has more than 6 thousand employees and you can meet the Holding products on all continents. The Holding closely cooperates with TATRA TRUCKS Company affiliating companies such as TATRA DEFENCE VEHICLE, EXCALIBUR ARMY, RETIA, AVIA Motors, ZTS METALURG, DAKO-CZ, JOB AIR Technic, ELTON hodinářská, EXCALIBUR INTERNATIONAL, KARBOX or DHS Logistics. CSG also cooperates with the world leading producers of defence technology, such as General Dynamics and NEXTER. Probably the most profound changes in this sense took place in the last year reflected in the Czech defence industry structure.
Photo Miloš Soukup and Antonín Svěrák