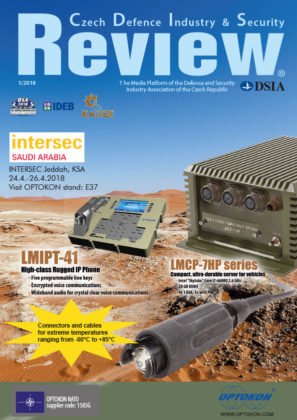 Dear readers,
This year's first issue of CDIS Review will introduce product portfolios and activities of Czech defence and security industry companies presented at the DSA 2018 International Fair in Kuala Lumpur, Malaysia held between April 16 and 19, 2018, at the official stand of the Czech Republic. Our magazine will support Czech companies also at other international events held in May, of which we are an official media partner, namely IDEB 2018 in Bratislava, Slovakia, and KADEX 2018 in Astana, Kazakhstan.
This issue with a new graphic layout is also available for you in an electronic format at www.msline.cz.
The magazine features an opening word on the DSA 2018 fair of His Excellency Rudolf Hykl, Ambassador of the Czech Republic to Kuala Lumpur, and a summary of bilateral commercial and other relations between the Czech Republic and Malaysia.
It also contains information on business opportunities of Czech defence and security industry companies in Slovakia and on defence and security cooperation of the Czech Republic and Slovakia, as well as a similar summary on Kazakhstan, including the country´s cooperation with the Czech Republic and business opportunities that Czech companies can find there.
I wish you good luck and every success in 2018!
Šárka Cook
Editor-in-chief
The next issue of CDIS Review, 2/2018, will be published on the occasion of the EUROSATORY 2018 International Fair. Please send any questions that you may have to: scook@msline.cz.
An electronic version of the magazine
: