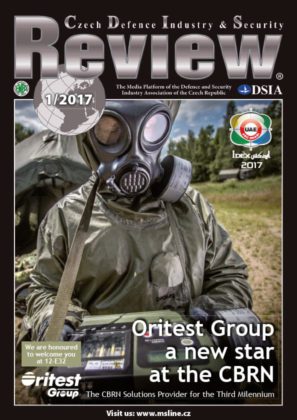 Dear readers,
This year's first issue of CDIS Review will present to you the best of the Czech de­fence and security in­dustry, which promotes its products and services through our ma­gazine at numerous events, in­cluding IDEX 2017. You will find many leading Czech com­panies dealing in soldier's gear, security, training, un­manned aerial vehicles and technologies, defence industry, radio transceivers, optics, ammunition, development and ma­nufacture of CBRN protection equipment etc. at the Czech offi­cial stand in Hall 12 or on Outdoor Lot CP 410.
This English version focuses mainly on support of Czech companies at international fairs, and I firmly believe that the companies presented herein will convince you of their top-ranking status. The magazine contains an opening word of His Excellency Alexandr Sporýš, Czech Ambassador to the United Arab Emirates, followed by contributions of Deputy Minister of Defence Tomáš Kuchta or Pre­sident of the Defence and Security Industry Asso­ciation of the Czech Republic Jiří Hynek, whose personal involvement means a lot for the support of the Czech Republic's pro-export policy.
Earlier this year, our company published the 10th edition of the printed Czech-English Security & Defence Tech­nologies Catalogue 2017–2018 of the Czech Republic, which presents an alphabetic list of defence and security companies, including descriptions of their activities and products and services they offer. You can view the online version at http://bit.ly/SDTCkatalog2017_2018
I wish you a lot of luck and successes in 2017, and many business opportunities – and not just at IDEX 2017!
Šárka Cook, Editor-in-Chief
An electronic version of the magazine
: