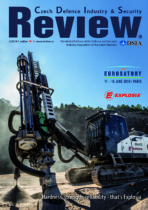 Dear readers,
In this issue, several leading defence companies will present to you not only their portfolios, but also innovations which they will show at their stands during the EUROSATORY 2018 international fair taking place between June 11 and 15 in Paris.
The Czech participation at the event will be one of the largest presences at international fairs ever. Czech stands, including a 225 m2 national stand, will occupy almost 700 square meters, which fact speaks for itself.
The previous issue was published on the occasion of the DSA fair in Kuala Lumpur, IDEB in Bratislava, and KADEX in Astana. You will find an article on the participation of Czech companies inside the magazine. In Kuala Lumpur too the Czech Republic has the most significant presence in the last six years.
Allow me to wish you many successes in your work and a pleasant stay in Paris during the EUROSATORY fair, and also to invite you to MS LINE´s stand (No. B 713, Hall 6).
An electronic version of the magazine
: