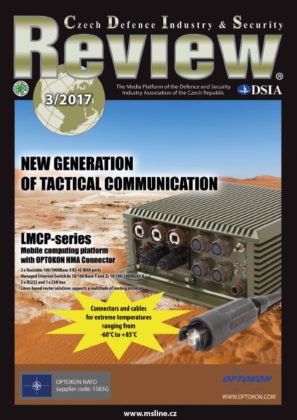 Dear readers,
Most of the companies presented in this issue of the Review and dealing in the defence and security industry will also display its unique products and services at the Milipol fair, which will again take place after two years in Paris from November 21 to November 24, 2017. The Czech companies, such as EVPÚ Defence, VOP CZ, REDO, Prototypa-ZM or DEPENDABLE SOLUTIONS, also make use of the Review magazine to invite you to their respective stands at the fair.
The Milipol exhibition is primarily focused on national security, which was why we asked, just like two years ago, Deputy Director of EUROPOL and former Police President of the Czech Republic Major General Oldřich Martinů for an exclusive interview.
At the turn of May and June 2017, the Czech Republic hosted the IDET International Defence and Security Fair, as well as parallel PYROS and ISET events. You will find an evaluation of the exhibition, as well as a report on the presentation of Czech companies at the official national stand of the Czech Republic at the DSEI fair held in September 2017 in London.
We will be looking forward to meeting you again in 2018 at events and fairs such as ENFORCE TAC, IWA, DSA, IDEB, EUROSATORY, and NATO Days and FUTURE FORCES FORUM in the Czech Republic. On behalf of the editorial staff, I would like to wish you all the best and every success in the new year.
Šárka Cook, Editor in Chief
An electronic version of the magazine
: