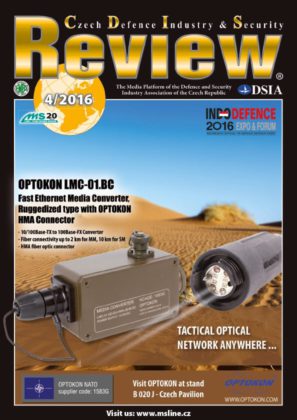 Dear readers,
The last CDIS Review issue of this year is focused on the presentation of products of Czech companies at the INDO DEFENCE international fair which will take place in Jakarta from November 2 to November 5, 2016, where the Czech Republic will have an official national stand. As the new editor-in-chief of the CDIS Review magazine, ladies and gentlemen, I would like to wish you many business successes at the exhibition.
I would also like to make use of this occasion to thank the previous editor-in-chief, Dipl. Eng. Miloš Soukup, whose idea to make the Czech defence, aviation and security industry more visible, particularly at international fairs and exhibitions, gave birth to the first defence industry-oriented magazine, CDAI (Czech Defence and Aviation Industry) Review, as early as in 2000. Step by step, he developed the magazine into a very successful and valued periodical.
You will also find an online version of the magazine at www.msline.cz.
I hope that CDIS Review will continue to be as popular, attractive and informative under my leadership as it was under my predecessor´s, and also thanks not only to our long-standing partners, but also to an exclusive editorial board.
Šárka Cook, Editor-in-Chief
Preparations of the CDIS Review 1/2017 issue which will be distributed at the IDEX 2017 in-ternational fair is already in full swing. Please send your questions concerning a presentation to: scook@msline.cz.
The city of Brno, Czech Republic, will host the IDET international fair of defence and security technologies for the fourteenth time from May 31 to June 2, 2017. Our publishing house as the main media partner for the Czech Republic is preparing a traditional Czech-English magazine, IDET NEWS, which is distributed to all exhibitors and also available at main points of entry and events accompanying the fair. You will find its 2015 version at: http://bit.ly/1V91XIs
An electronic version of the magazine
: