FUTURE FORCES FORUM 2016 – Renowned Foreign Journalists Presented Their Awards
  
International Jury
The chairman of the jury and also the person handing over the FFF golden awards was Stephen Barnard, Managing Director of the media agency MCT; Editor-in-Chief of the "Review…" line of magazines Šárka Cook was his deputy, with editors-in-chief Hartmut Bühl, Walter Haland, Paolo Valpolini and Joerg Aschenbrenner as members.
The announcement of the results, which took place in front of the stands of the Defence and Security Industry Association of the Czech Republic and MS Line, was attended by leading political and state administration representatives, defence and security industry exhibitors and members of the professional community.
The first place in the Future Forces Forum Best Product Awards and the gold medal was awarded to the new RF-7850S SPR radio transceiver by Interlink CS; the silver medal went to the Kerberos Mobile vehicle underside scanner by VOP CZ; and the bronze medal was assigned to a new type of plastic explosive, Semtex 90, developed by Explosia.
Details of the winning products:
RF-7850S SPRTM – Advanced Wideband Secure Personal Radio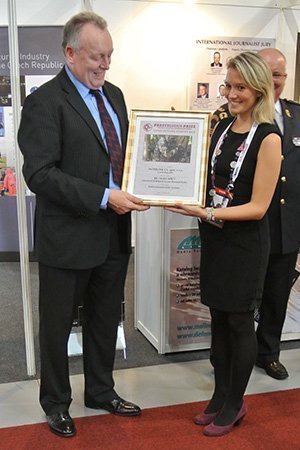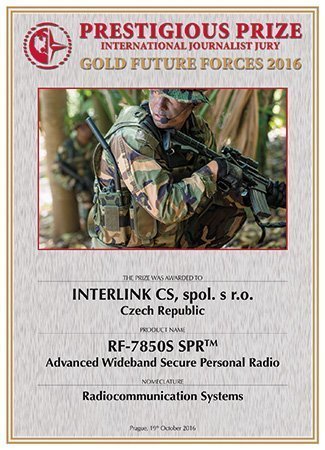 The RF-7850S SPR™ is the most advanced secure personal radio system available on the market, providing full communications capabilities for the modern soldier at the team, squad, and platoon levels. Based on the widely fielded RF-7800S SPR Team and Vehicle Radios, the RF-7850S SPR includes several new and improved features.
The RF-7850S SPR is equipped with the advanced Harris next-generation platoon soldier waveform. It provides team-based voice, fully networked platoon-wide communication and reliable position reports to ensure every soldier is always connected and accounted for. The RF-7850S SPR has a higher performance and a more flexible and adaptable soldier waveform. Additional high-speed data capabilities are available through a mobile ad-hoc network that allows commanders to receive in-depth sensory information and gives every soldier access to the battlefield tactical internet.
Even in challenging environments, the RF-7850S SPR's narrowband mode provides ad-hoc networking and position reporting capabilities in addition to core voice communications. Its flexible modes, embedded applications and networking services are optimized to support operation in any tactical or urban location. With the best available frequency range available in a soldier platform radio, the RF-7850S SPR extends secure and reliable voice, situational aware­ness and data networking down to the individual soldier level. The RF-7850S SPR is also interoperable with other Harris Falcon® radios, enabling flexible radio net­working for any mission.
FEATURES
Next generation networking waveform designed specifically for the soldier
Wideband and narrowband modes for universal operation
Interoperability for easy integration into communication expansion programs
Advanced Soldier Features improve soldier effectiveness
Kerberos Mobile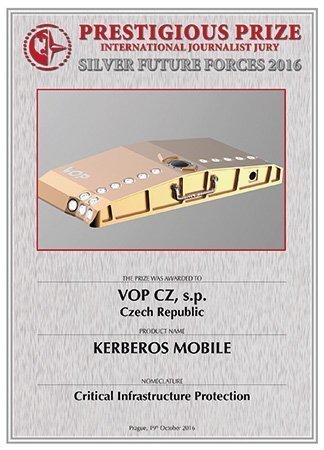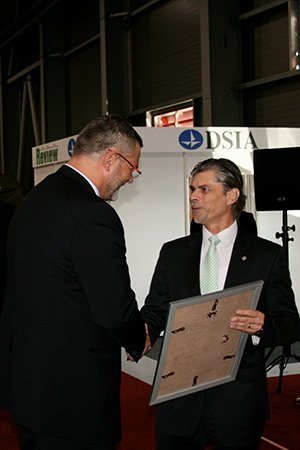 Key characteristics
The Kerberos Mobile device was specially developed for fast and reliable inspection of a vehicle's undercarriage. It reliably reveals all changes made to the vehicle's undercarriage or devices andobjects, which have been subsequently attached to it. A func­tion for automatic scanning of registration plates can be added to the system.
System advantages
full-colour images of the undercarriage can be taken;
the option of visual comparison with a previous scan or an image of another vehicle;
automatic lighting of the inspected vehicle;
option of archiving images;
quick and easy installation;
simple operation;
mechanically resilient and compact design;
own power supply system;
option of connecting the device to the vehicle's 12V/24V/230V power supply.
System components
scanning unit;
lap top computer with operating SW;
heavy-duty case containing the electronics and power supply;
cross-over rails;
connecting cables.
Operating SW
The software shows the operator the image of the undercarriage of the ve­hicle being inspected. The image can be enlarged multiple times for detailed inspection of selected areas. The software allows visual comparison of
the image with an earlier scan of the inspected vehicle or with any other image and automatic archiving according to vehicle registration plate or other identifier.
Semtex 90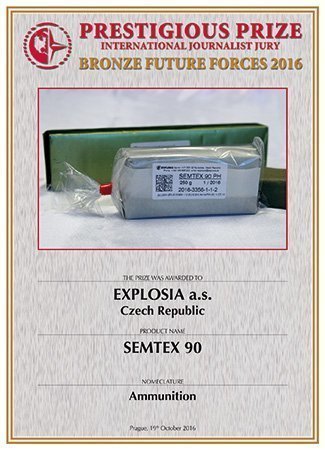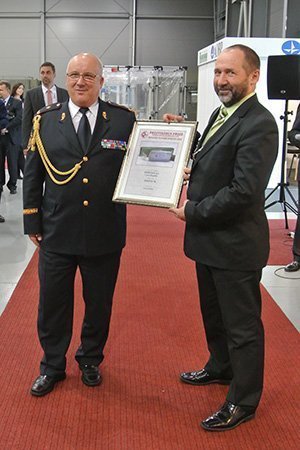 Semtex 90 is a completely new kind of plastic ex­plosive. Since currently manufactured Semtex plastic explosives differ mainly ing the new binder system, which Semtex 90 provides soma unique features. It is particularly small dependence of the rigidity of plastic explosive on temperature. The explosive is plastic from –40 °C and it is no problem to use up to temperatures of +60 °C. Another advantage is the very good durability and low rate of change in properties during storage. It is very easy to shape and also applicable to more sophisticated uses. Unlike conventional plastic explosives Semtex is also cha­racterized by 10 to 20 % higher working ability. It's me­chanical properties also allow the use of this new method processing ex­plosives and delivering it in a new package with a significantly higher desing and user levels. The explosive is offered in three versions, which differ from each other mainly by using crystalline A High explosive PETN or RDX or mixtures thereof.