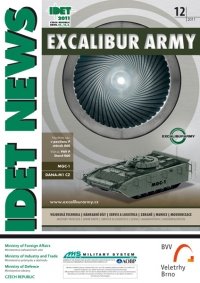 Ladies and Gentlemen, Dear Readers and IDET Visitors,
Over the past two years, there have been many positive as well as negative developments in all world's arenas, caused both by us, humans, and the nature. Development races ahead and cannot be stopped; we can only get along with it. You see yourself that IDET is not alone here in 2011 – there are again its friendly exhibitions that belong here one-hundred per cent.
IDET and IDET News have been together since 1995 and all exhibitors take it as matter of fact, because the periodical, with its traditional coverage, quality and thousands of copies is available free during IDET at entrances and at the MS Line stand, plus it is distributed to all exhibitors, delegations, guests and exhibition events participants, all according to the contract that our publishing house has in place with Veletrhy Brno. We are honoured and proud to be the official media of Veletrhy Brno for IDET. I therefore do not quite understand why a company distributed letters to Czech and international exhibitors with advertisement requests claiming they were the principal media partner to IDET. Firms having selected that option will be able to compare the frequency of IDET News and of the other print at IDET exhibition.
The organisers' initial concerns with possibly low interest by businesses to take part in IDET in Brno have dispelled early and this years' participation is excellent once again. I was afraid myself at the beginning about the contents of IDET News, but I was delighted again by EXCALIBUR ARMY who applied for the cover same as twenty-four months ago. I noted in the editorial then that not very manufacturing of equipment was the priority, but rather procurement and the cheaper the better……that was my word for EXCALIBUR ARMY and now? You may see for yourself how the firm has grown in two years' time and what many interesting products they offer; just take a look at the cover of IDET News.
Because I am a woman of principle and I do not change my habits and opinions, I still love fishing in Norway; Major (Ret.) Walter Håland, Norwegian correspondent for IDET News in 2009 became my deputy this year, and again contributed a magnitude of articles; we would just like to ask you for indulgence because, in spite of assistance by the University of Defence, our communication in expert terms sometimes did not go seamless.
An international journalist jury headed by Mr. Jörg Aschenbrenner, chief editor Truppendienst of Austria and President EMPA, the European Military Press Association, will again visit Brno for IDET 2011. I trust that the most interesting products will be selected for awards while I wish to those not awarded to break new grounds in markets and for IDET to spawn their future success.
By the way of conclusion, I would like to thank very much indeed to all those I had the pleasure to cooperate with for this edition of IDET, to those who have made use of IDET News for their presentation and those who offered attractive interviews and articles.
Eva Soukupová, Editor in Chief