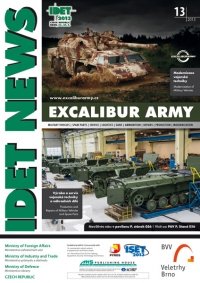 Ladies and Gentlemen, Dear Readers and IDET Visitors,
I would open this editorial by what Caesar said after having led his army across the Rubicon river – Alea iacta est – the die has been cast – you may wonder why, but the editorial is the editor-in-chief's word, it is not conforming to anything and anyone, not even time. However, time knows no mercy and this is why I am writing my last editorial.
I started working for IDET in 1997. We invented the IDET News aboard a ship to Greece, together with Karel Torn, then the manager of IDET, who has already handed over the proverbial sceptre to Mr. Jiří Rousek, a generation-younger manager. As Karel is 5 days older than me, I will copycat my "older brother" and follow his suit. I am handing my sceptre over to Mrs. Šárka Cook, who has been working for our magazine and publishing house since 1998, albeit with some intermissions due to maternity leaves. She has prepared several Defence Industry Catalogues, she knows the business and many people from it, and you will be able to meet her at IDET.
IDET has always been a prestigious event taking place in an excellent venue and a feast for the defence and security industry. It continues to attract crowds of people. Moreover, the Army of the Czech Republic is celebrating its 20thanniversary this year, has a lot to show and be proud about, and its presentation, both in Hall P and on outdoor areas around it, ranks among the biggest. It will show new technologies and equipment that have recently been fielded by our armed forces, or will be fielded shortly.
We were initially quite sceptical about the participation in the event; however, at the end of the day it has been proved that our country still has a lot to offer and that there still many companies for which the participation at IDET is something of a "matter of honour". As usual, the principal accompanying programme will be the CATA Conference, this year segmented into six international "sub-conferences".
Contrary to its predecessor, the present issue of the IDET NEWS magazine contains a recollection of the awarding of Prestigious Prizes in 2011 as well as of the award ceremony held this January on the occasion of the annual meeting of the Editorial Board of the CDIS Review magazine published by MS Line. Both events promote the Czech defence industry, which is a much differentiated industrial sector in our country and whose exports are now a number-one priority. I would like to wish it a quick solution of its transit problems and new and good markets for its products. There is nothing we should be ashamed of. On the contrary – many of those who harbour doubts may even agree with me once they have seen the IDET 2013 Fair and read the IDET NEWS magazine.
I wish a pleasant and successful stay in Brno to all visitors and exhibitors.
Eva Soukupová, Editor in Chief