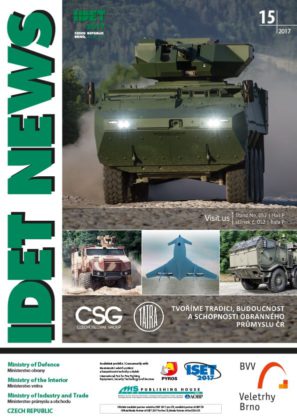 Dear Ladies, dear Gentlemen, 
I present you the 15th edition of IDET NEWS Czech-English magazine published on the occasion of IDET, PYROS and ISET exhibitions as a traditional part of that great show hosted by BVV Trade Fairs Brno. Our publishing house is again the principal media partner of the IDET Fair in the Czech Republic and I use the opportunity to thank the organiser for the long-standing cooperation and wish success in the course of the entire event!
IDET NEWS will present you unique, new and interesting items exhibited by the companies including the invitations to their stands, along with interviews with the national administration bodies' representatives, such as General of the Army Josef Bečvář, Chief of the General Staff of the Czech Armed Forces, or Major General Petr Dohnal who is the Director General of the Prison Service that will present at the ISET fair for the very first time in its history.
The side parts of the fairs consist of expert conferences with busy agendas held by the University of Defence and the demonstrations of military, police and fire-fighting equipment and special units going on at IDET Arena driving circuit.
I would close this editorial wishing you all nice time spent in Brno, new contacts established and first of all many successful business meetings held.
I look forward to meeting you at our stand of MS Line and DSIA CR no. 134 and 135 in Pavilion P.
Šárka Cook, Editor in Chief
An electronic version of the magazine
: