REVIEW for defence and security industry 1/2016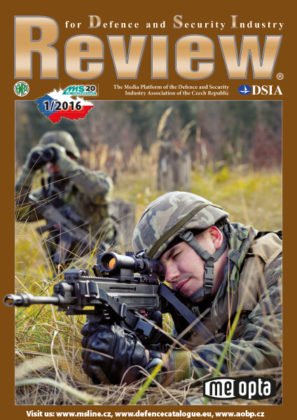 Dear readers,
This year you may be pleased by the often-discussed electronic form of the review, including its English version, which we are going to launch soon on our website, www.msline.cz. Newsletters in which we intend to provide current information about the magazine and its content as well as about matters that may be of interest for you represent another innovation.
The first half of January saw the annual meeting of the Editorial Board which resulted in some interesting proposals of representatives of state authorities and the defence and security industry regarding the content of the magazine. We have already included quite a few of them in the first issue of this year.
We asked Mr. Roman Váňa, Chairman of the Security Committee of the Czech Parliament, about his opinions concerning stricter legislation in the field of legal possession of firearms (Page 4); the Chief of the General Staff of the Army of the Czech Republic gave us an interview outlining principal tasks of the Army of the Czech Republic and indicating whether he was satisfied with this year's budget of the Ministry of Defence or not (Pages 6-7). Mr. Martin Dvořák of the Defence Standardisation, Codification, and Government Quality Assurance Authority of the Ministry of Defence responds to questions about secure deliveries to armed forces (Pages 8-9).  The article of the Deputy Director General for Prevention and Civil Emergency Preparedness of the Fire Rescue Service of the Czech Republic will tell you how the population of the Czech Republic is notified of impending threats and which measures are taken in this respect (Pages 10-12).
The present issue is focused mainly on internal and external security of the state. It presents a number of both Czech and international companies, including EVPÚ DEFENCE, VOP CZ, BELL HELICOPTER, MEOPTA, SAAB or GORDIC, whose capabilities can undoubtedly contribute to the abovementioned topic which needs to be taken really seriously today.
The English version of the CDIS Review magazine is dedicated to the presence of Czech companies at the DSA exhibition in Kuala Lumpur and the ENFORCE TAC and IWA fairs in Nuremberg. The article on Pages 30 to 33 brings information about the participation of Czech companies at the events in Nuremberg, including their opinions and comments.
And what are we planning for the next issue? In early May, the exhibition centre in Bratislava will host the 6th IDEB International Defence Exhibition, where we will also be present with the "Review", and the last day of May is reserved for the General Meeting of the Defence and Security Industry Association of the Czech Republic. I am looking forward to meeting you at either of the abovementioned events and to further cooperation.
Šárka Cook, Editor in Chief
Review for Defence and Security Industry
An electronic version of the magazine
: