Review for defence and security industry 1/2021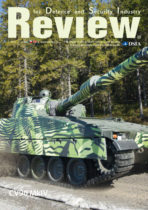 Dear readers,
In this year's first issue, we will welcome you with an exclusive interview with the State Secretary of the Ministry of Foreign Affairs of the Czech Republic, Dipl. Ing. Miloslav Stašek, concerning the support of the Czech defence and security industry abroad in the pandemic time and on its influence on the export of this sector with exceptionally high added value.
Also, two bidders in the tender for the purchase of the new infantry fighting vehicles for the Czech army will introduce themselves and, of course, there is a bundle of production of the Czech defence and security companies.
In the end you will find a report from the Czech participation in the largest air show in Asia AERO INDIA 2021 and I believe that similar reports from the Czech Republic's participation in international fairs will soon enrich our "Review" again.
Šárka Cook, Editor-in-Chief
An electronic version of the magazine
: