Review for defence and security industry 1/2022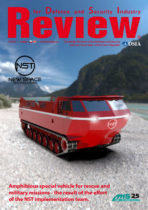 Ladies and gentlemen,
This year's first issue is especially published on the occasion of the 25th anniversary of our MS Line Publishing House foundation and also on the occasion of the annual meeting of the editorial board and subsequent ceremonial meeting of the friends of Review magazine with the traditional announcement of the best personalities, companies and defence and security products, which is traditionally held in January. Unfortunately, the meeting did not take place last year and even at the beginning of this year the situation still did not look the most favourable due to capacity restrictions at various meetings affected by Covid.
Right at the beginning you will find interesting interviews, for example, with the Chairman of the Administration of the State Material Reserves, Dipl. Ing. Pavel Švagr, or the Director of the Criminalistics Institute of the Police of the Czech Republic, Luboš Kothaj.
The Czech defence and security industry is able to offer a number of comprehensive solutions, unique technologies or products in the fields of aviation or ground equipment, cybernetics, research and development, etc. The diversity of this industry's production is presented in this issue by more than one third of members of the Defence and Security Industry Association of the Czech Republic which number today over 130 members.
I wish you a nice read and, if possible, peace of mind, strength and, above all, good health!
Šárka Cook, editor-in-chief
An electronic version of the magazine
: