Review for defence and security industry 1/2023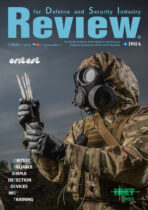 Dear readers,
We are entering a period when, even with some delay, we look back upon the past year, and the General Meeting of the DSIA CR is ahead of us, as well as the most important Trade Fair event in the Czech Republic, the 30th IDET, ISET and PYROS 2023.
Yes, time passes quickly and our Publishing House is also entering another quarter of a century. On this account we have prepared the most historically comprehensive Review so far for you, where you will find a lot of interesting information both in the field of the Armed Forces and the Police, and of course also from the sphere of the Fire Rescue Service of the Czech Republic.
We are pleased that, important representatives of the Armed Forces of the Czech Republic, the Police of the Czech Republic, and the FRS CR gave us an initial interview. In this edition, many Czech companies present their results, which were awarded on April 19th at the Annual Meeting of the Editorial Board and a friendly VIP meeting of the Defence and Security Community. We will inform you in more detail about this event in the next edition and partly in our IDET NEWS.
The first edition of this year's Review includes a lot of information about activities of not only the "big", but especially "medium" and "smaller" companies and also informs about the activities of the Presidium and the Board of Directors of the DSIA CR. Here, you will also find a survey with the opinions of the membership base on the current activities of the DSIA, but we will also introduce a relatively large family of new members of the Association.
The MS Line Publishing House and the editors of the Defence and Security Industry Review thank our readers very much for their favour in 2022 and look forward to meeting you at the IDET Trade Fair, where we are the main media partner for the Czech Republic. 
We would like to invite you to our stands No. 115 and 116 together with DSIA CR in the pavilion P.
Don't forget to take our traditional IDET NEWS 2023 in the displays at entry!!!
                Šárka Cook, Editor in Chief
An electronic version of the magazine
: