REVIEW for defence and security industry 1/2017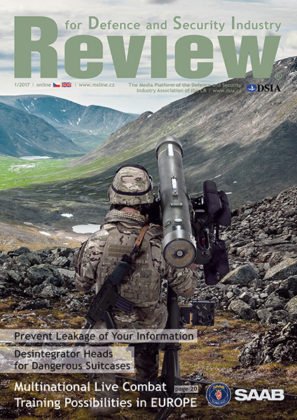 Dear readers,
you are holding the first issue published in this year, with a new design and with the content full of news and enormous successful coups of the Czech companies involved in security and defence made in and beyond the Czech Republic. Reports from Czech Republic's official contribution to IDEX  international defence exhibition in Abu Dhabi and from the Czech companies' presentations at ENFORCE TAC and IWA trade fairs will leave no doubts that the Czech industry has never had a thing to be ashamed of, more likely vice versa.
The issue starts with exclusive interviews with the leading representatives of government administration. The President of the Police mentions the successfully implemented concept of Czech National Police Development and the Czech Police Security Guard chief officer describes the procedures of challenging engagement of the security units at protecting the lives and health of the guarded persons. We highly appreciate the acceptance of a position in our editorial board of representatives, of whose meeting you can read more in pages 39-41, by the Director General of the Prison Service of the Czech Republic who also gave an interview in which he acquaints with the priorities, achieved goals and future plans of the Service. Forgotten should not be the no less interesting interview with the Czech Ministry of Defence Support Division Director presenting its uniqueness.
It is only several weeks to go before the 14th IDET Exhibition in Brno begins together with the partner exhibitions of PYROS and ISET and we will look forward to your visit to the stand we will share with the Defence and Security Industry Association of the Czech Republic (DSIA)!
Šárka Cook, Editor in Chief
An electronic version of the magazine
: