Review for defence and security industry 2/2018
Dear readers,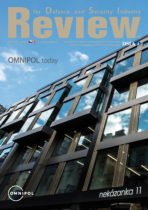 The second issue of this year with a new graphic layout has been prepared especially for
the General Meeting of the Defence and Security Industry Association of the Czech Republic. Its appendix offers activities and motivations of the Association targeting domestic members, as well as efforts of the Association´s presidium to support Czech companies, particularly abroad.
The keynote article is undoubtedly an interview with the Chairman of the Administration of State Material Reserves of the Czech Republic. As usual, we also inform our readers about activities of the Fire Rescue Service of the Czech Republic.
In addition, this issue contains presentations of top products of several leading Czech defence and security industry companies.
An electronic version of the magazine
: