Review for defence and security industry 2/2020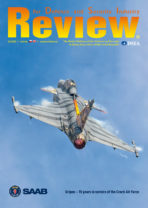 Dear readers,
The coronavirus pandemic has affected many lives around the world. It hit both our privacy as well as the business life. There are countless companies in the Czech Republic that are able to help with defensiveness of our country. However, in this respect there are still many obstacles. Unfortunately, this topic is being discussed on regular basis not only at the time of crisis.
I share the similar view with Jiří Hynek, the President of the Defence and Security Industry Association, the interview with whom you will find right at the beginning of this magazine: We should get better prepared for the future, especially by replenishing the stocks of the Administration of State Material Reserves. In this issue, we will introduce many defence and security companies that would help the country to overcome the crisis in a better way.
In conclusion, I would like to offer you the opportunity to present your activities in the next, already twelfth edition of the bound book, "Security and Defence Technologies Catalogue 2021-2022", which is, among other things, very positively perceived and used during delegation visits both in the Czech Republic and abroad by top representatives of MFA CR, MoD ČR and MIT CR.
An electronic version of the magazine
: