Review for defence and security industry 2/2022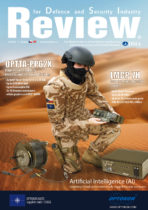 Dear readers,
this issue is published mainly on the occasion of the General Meeting of the Defence and Security Industry Association, which is taking place again in Brno after a two-year distance hiatus. DSIA CR currently has over 130 members, which is a record number since its establishing.
We have prepared for you some interesting interviews, in particular with the Deputy Minister of Foreign Affairs of the Czech Republic, Dipl. Ing. Martin Dvořák or with the President of the International Police Association (IPA) – Czech Republic section, Dipl. Ing. Josef Neruda.
Šárka Cook, Editor-in-Chief
An electronic version of the magazine
: