Review for defence and security industry 2/2023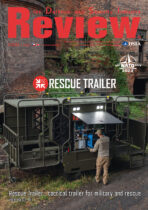 Dear Readers,
this edition is published on the occasion of the events held on September 16th-17th at the Leos Janacek Ostrava Airport, the 23rd NATO Days, and the 14th Days of the Czech Air Force. The third weekend of September under the partnership of Poland, which will play its special role for the second time already. And our Publishing House values the role of the media partner. The purpose of this event is to increase general awareness of the importance of international cooperation for ensuring Czech security, with an emphasis on partnership with the states of the North Atlantic Alliance. The main means of achieving this goal is a public display of the widest possible range of means available to the Czech Republic and its allies in the field of security.
Some of the exhibiting companies at this event are also presented in this edition, as well as other no less interesting companies from the field of both defence and security, whether it is land engineering, aviation, UAVs, logistics, cybernetics, communications, research, development, weapons and equipment, training, chemical equipment, etc. We offer all of this in this packed Review. I would also like to mention the interviews held with representatives of the state administration, namely with a Senator and, at the same time, a member of the Committee for European Union Affairs, the Minister for European Affairs of the Ministry of Foreign Affairs of the Czech Republic or the Director of the Municipal Police of the Hradec Králové Region, and we also requested an interview with the re-elected President of the DSIA, who was recently awarded CZECH TOP 100 Award.
In the next edition, we would like to introduce the newly elected Vice Presidents of DSIA, whom we look forward to seeing at the upcoming annual meeting of the Editorial Board and the subsequent meeting of friends of the Review magazines. We are already starting the preparation of the next issue published for the mentioned traditional January event of our MS Line Publishing House.
Furthermore, we will present to you in more detail the award-winning companies, products, and personalities at this year's annual meeting of the Representative Editorial Board of Review magazines for the Defence and Security Industry, but we will also look back at the most successful and largest IDET 2023 in its thirty-year history and the GOLD IDET and GOLD IDET NEWS 2023 Awards received.
Šárka Cook
An electronic version of the magazine
: