REVIEW for defence and security industry 2/2017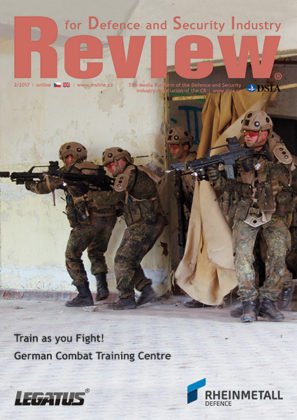 Dear readers,
the magazine first pages offer you views of national government administration representatives. The first one is the Chief of General Staff of the Czech Armed Forces who mentions the hopful grow of defence budget among others. The following interview with the deputy minister of defence Ing. Tomáš Kuchta brings an assessment of MoD support and successful cases of Czech industry abroad or the current priorities of the Industrial Cooperation and Organisa­tions Management Division. I should not forget here other interviews, though, such as with the Customs General Director or the new Deputy Director General of the Czech Fire Rescue Service for prevention and civilian emergency readiness.
The largest international fair of defence and security technology in this year – IDET – and concurrently held PYROS and ISET exhibitions in Brno will open in few days already. The following pages will acquaint you the great homeland event hosted by BVV Trade Fairs Brno including presentations of some of the exhibitors coming from and outside the Czech Republic along with invitations to their stands.
The IDET NEWS Award ceremony with the announcement of the best product nominated by international jury of journalists will take place during the course of the fair. I wish all visitors nice time spent in Brno and the exhibitors many successful business activities.
Šárka Cook, Editor in Chief
An electronic version of the magazine
: