Review for defence and security industry 3/2019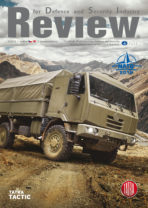 Dear readers,
In this issue, on the occasion of the NATO Days in Ostrava and the Czech Air Force Days, we bring to you interviews with top representatives of the state administration, news and interestingness in the defence and security industry and in the end also the hindsight to the recent IDEB 2019 Fair.
For example, the Minister of Defence mentions not only the current but also planned cooperation with DSIA and the Czech defence and security industry. The director of the fire brigade of the Moravian-Silesian Region, at the same time also the new member of our representative editorial board, describes in his interview experiences, projects, foreign cooperation and in a way actually "firefighting" in this region. No less interesting is the following interview with the head of the Rapid Deployment Unit, who has held this position since 1996.
But I cannot omit the presentation of our defence and security industry companies, which both in the Czech Republic and abroad increasingly prove that the quality of their production and services can rival with top foreign competitors. These companies are TATRA, OMNIPOL, MEOPTA, AGADOS, GTC, EXPLOSIA, ERA, RETIA or GORDIC and AURA.
An electronic version of the magazine
: