Review for defence and security industry 3/2020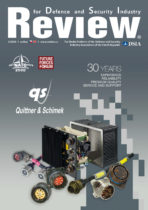 Dear readers,
"Our security is not a matter of course and without security there is no prosperity", that is the motto of two ongoing events held on 19 – 20. September at Leoš Janáček Airport in Ostrava, where our MS Line publishing house is again a media partner. Unfortunately, the NATO Days, celebrating twenty years this year, and the 11th Air Force Days of the Army of the Czech Republic, have to do without visitors on the event premises due to the current emergency situation in the fight against COVID-19 coronavirus infection.
In this issue, we bring you production and news from defence and security companies, such as AURA, GORDIC, MESIT, OMNIPOL, Rheinmetall, AGADOS, Quittner & Schimek, ERA, Tatra Trucks, BRNO, TELINK, AIR TEAM, or TENEO. I cannot fail to mention SPECTRASOL, presenting its article on modern pro-cognitive lighting that has proven to improve health and increase mental and physical performance.
Right at the beginning you will find an interview with the Deputy Minister for Industrial Cooperation of the Ministry of Defence of the Czech Republic concerning the impact of the pandemic on the Czech defence and security industry and the article on the development and modernization of the training base (fire school) of the Fire and Rescue Service of the Czech Republic, the history of which began in 1985.
An electronic version of the magazine
: