Review for defence and security industry 3/2021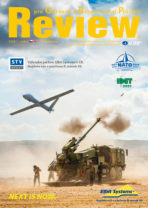 Dear readers,
"Our security is not a matter of course and without security there is no prosperity", that is the motto of two ongoing events held on 18-19. September at Leoš Janáček Airport in Ostrava, NATO Days, celebrating twenty years this year, and the ACR Air Force Days, which is the official event of the Czech Air Force held in parallel with NATO Days on the basis of the decision of the Ministry of Defence. This year, our publishing house has the honour of being a media partner of both such important events.
In this issue, the Review will present production, services and news from companies from the security and defence sector not only from the Czech Republic but also abroad such as STV Group, AURA, NEXTER, ARQUUS, RHEINMETALL, AGADOS, FIDES, Tatra Trucks, Česká zbrojovka, TOVEK , GORDIC, ContSystem, Protect Parts, EVPÚ Defense, ERA, EXCALIBUR ARMY, Explosia, Kärcher, ATS-TELCOM and, of course, not to be missed the BRNO TRADE FAIRS, which this year organizes a trio of security fairs IDET, PYROS, ISET, exceptionally in the autumn term, from 6 – October 8 at the Brno Exhibition Grounds. Here, too, as in previous years, our publishing house is the main media partner for the Czech Republic, which we greatly appreciate.
Finally, I would like to mention the 12th edition of the hardcover Catalogue of Security and Defence Technologies 2021-2022 in Czech-English languages, which will be available at the October IDET at our MS Line stand in Hall P, number 054, where together with DSIA CR we look forward to seeing you.
Šárka Cook, Editor-in-Chief
An electronic version of the magazine
: