Review for defence and security industry 4/2018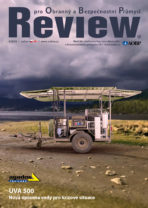 Dear readers,
In the last issue of this year, we have prepared a lot of interviews with leading state administration representatives, including a Deputy Minister of Industry and Trade, General Director of the Czech Prison Service, Director of the Public Order Police Directorate, Director of the Industrial Cooperation Department of the Ministry of Industry and Trade, and industry representatives.
The Czech defence and security industry is recognized and renowned worldwide, thanks to its history and high quality products and services. Leafing through just a few pages will dispel any doubts that anyone may have about this statement. And we are pleased that the number of companies which use our media to make themselves more visible is increasing.
This year was successfully concluded by a major domestic defence and security event, namely the FUTURE FORCES FORUM, and we have started preparing for the most important international fair of defence and security technologies in the Czech Republic, IDET 2019, which will take place in Brno on May 29 to June 1, 2019.
As the event´s principal media partner in the Czech Republic, we will traditionally publish the Czech-English IDET NEWS during the fair, the latest issue of which can be found at https://msline.seethebrand.com/idetnews/2017/
On behalf of our editorial staff, I would like to thank you for your cooperation in 2018 and wish you a lot of success, happiness, and above all good health in the new year of 2019!
Šárka Cook, Editor-in-chief
An electronic version of the magazine
: