Review for defence and security industry 4/2019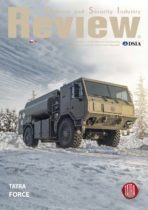 Dear readers,
 This year was characterized by important anniversaries, whether it was 70 years since NATO foundation, 20 years of the Czech Republic's membership in the North Atlantic Alliance, or 30 years since the Velvet Revolution in what was then Czechoslovakia. However, I cannot omit to mention the important anniversaries of world-famous companies from the Czech defence and security industry, such as 100 years since the origin of the TATRA brand in Kopřivnice factory founded in 1850.
The Czech defence and security industry is able to offer a number of comprehensive solutions, unique technologies or products in the areas of aeronautical engineering, ground equipment, cybernetics, research and development and others. The diversity of defence and security industry production is presented in this issue by more than one third of the members of the Czech Defence and Security Industry Association, which has over 100 members. Of course, you will also find contributions from non-member companies such as MCAE, describing, among other things, cooperation in the production of combat vehicles using 3D printing.
The Czech Republic is perceived as a serious partner in the world. Defence and security industry companies keep also actively presenting the Czech Republic at international trade fairs, and the new Deputy Minister of the re-established Industrial Cooperation Section of the Ministry of Defence of the Czech Republic, Tomáš Kopečný, describes this as well as other opportunities and cooperation with not only foreign partners.
We also prepared other no less interesting interviews on firefighting or police topics, specifically with col. Mgr. Radek Kislinger, the Head of the Department of Fire Causes Determination of the Ministry of Interior – Directorate-General of the Fire Rescue Service of the Czech Republic or with col. Martin Hrinko, who left the Police of the Czech Republic after 26 years of the service.
Dear friends, on behalf of the whole editorial team, I would like to wish you success and happiness in the New year for, but above all health, and thank you for the all-year-round cooperation and for your interest in our "Reviews".
Keep your interest also in 2020!
Šárka Cook, editor-in-chief
An electronic version of the magazine
: