Review for defence and security industry 4/2020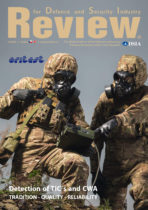 Dear readers,
2020 will remain a year that the whole world will certainly never forget. This pandemic period has caused many losses, both on human and economic side, which unfortunately do not end.
I am convinced that the Czech defence and security industry is able to offer certain solutions in this regard, how to help in this situation not only in the Czech Republic but also abroad. Whether it is the production of detection and defence devices, the production of masks using 3D printing, the prevention of risks associated with the digital threats, such as hacker attacks or even the project of distribution of medical gases to covid patients with respiratory problems.
I have no doubt that this issue will convince you, the reader, that the Czech defence and security companies, despite this very difficult situation, are giving a good try to constant development and demonstration of absolutely professional production and thus convince not only our legislators, but also the whole world about its outright originality and competitiveness.
I wish you a better, and most importantly a healthy year 2021!
Šárka Cook
An electronic version of the magazine
: