Review for defence and security industry 4/2021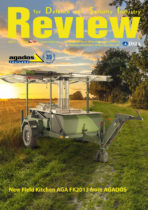 Dear readers,
This time I will be fairly short in my editorial. Why? As in this current issue you will find everything, from A to Z from the Czech defence and security industry, which can be proud of its know-how, production, services, but above all the people who are behind all this with their professional work. I regard highly that the Czech Republic, although a small country, can be and is so competitive worldwide.
On the occasion of the 25th anniversary of our publishing MS Line house, allow me to wish you all a happy start to the New Year, a lot of strength, success, perseverance as well as patience and prosperity, as the last 2 years have not been easy for all of us, but most of all I wish you a robust health that no one can buy!
Happy New Year 2022 on behalf of the whole editorial team!
Šárka Cook, Editor-in-Chief
An electronic version of the magazine
: