REVIEW for defence and security industry 4/2016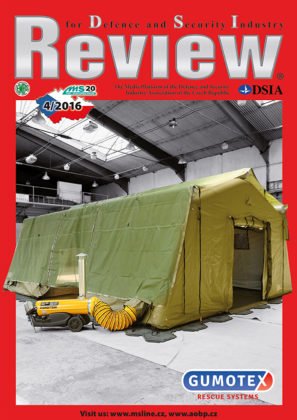 Dear readers,
The last issue of the Review in this year contains many interesting interviews with top-ranking representatives of NATO and state administration, domestic organizations, or Czech defence and security industry companies.
The "Exhibitions, Conferences and Seminars" section presents reports and information on major fairs and conferences which took place in the last quarter of this year, particularly the FUTURE FORCES FORUM, where our editorial team organized a Best Product Competition among journalists, or the INDO DEFENCE international exhibition of defence, aerospace and naval technologies and products in Jakarta, Indonesia, where the Czech Republic had an official national stand.
In 2017, we will be, just like at FFF 2016, the principal media partner of the forthcoming IDET 2017 event (held in parallel with PYROS and ISET fairs) for the Czech Republic. This issue presents defence and security innovations, products and activities of, for example, GUMOTEX, AGADOS, RETIA, BAE SYSTEMS, TESLA, GORDIC, ROBODRONE, KÄRCHER, EVPÚ, ROHDE & SCHWARZ, B.O.I.S. – FILTRY, LOM, AURA or VTÚ. Most of the companies listed above are members of the Defence and Security Industry Association of the Czech Republic.
At the moment, we are preparing the "Czech Defence Industry and Security Review" version in English, with an ob-jective to provide media support to the Czech defence and security industry at the IDEX international fair in Abu Dhabi, where the Czech Republic will also be officially present. We will again distribute CDIS Review personally during the event.
Allow me to wish you all the best in 2017 on behalf of our editorial team and thank for your cooperation in 2016. I will look forward to meeting you on the occasion of other major events in 2017.
Šárka Cook, Editor-in-Chief
An electronic version of the magazine
: