Review for defence and security industry 2/2019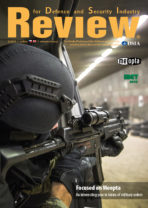 Dear readers,
This issue is published primarily on the occasion of IDET, the largest International Defence and Security Technology fair in Central Europe, and concurrently running ISET and PYROS fairs taking place in Brno on 29 May – 1 June. We introduce not only presentations of defence and security companies, but also the portfolio of some Czech and foreign exhibitors who would like to use this opportunity to invite you to their stands.
At the very beginning, we bring you an exclusive interview with Brigadier General Zoltán Bubeník, the Director of the Military Health Agency, who was also appointed the Chairman of the Committee of Chiefs of Health Services of the North Atlantic Alliance in the end of 2018. Another interview was provided by Jiří Hynek, M.A., the President of Defence and Security Industry Association of the Czech Republic. You can visit AOBP ČR on our common stand of DSIA and MS Line in the hall P, No. 123-124.
Our publishing house, MS Line, the major media partner of IDET for the Czech Republic, traditionally publishes the Czech-English publication called IDET NEWS on the occasion of IDET fair. The IDET NEWS awards ceremony and prize-giving for the best products nominated by the jury of international journalists jury will take place during the fair as well.
You can also find both of these editions online at www.msline.cz.
I would like to wish all visitors a nice stay in Brno and many successful business activities for exhibitors.
Šárka Cook
An electronic version of the magazine
: