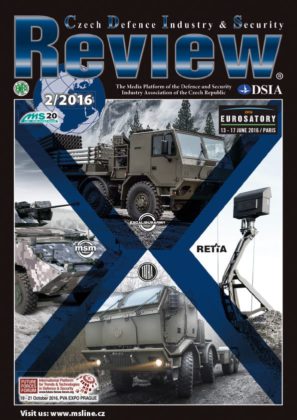 Dear readers,
Two years have passed like the turning of a palm and another EUROSATORY exhibition is awaiting us. Last November, Paris experienced what was perhaps the cruelest terrorist attack ever, and the event will therefore take place under strict security measures. The Villepinte exhibition site is close to the neighbourhoods of Le Bourget and St. Denis with numerous Muslim communities, where the National Stadium will also host final rounds of the 2016 European Football Championship.
You are now holding this year´s second issue of the English version of the CDIS Review magazine whose mission is to provide maximum possible media support to the Czech defence and security industry at this international exhibition. The defence and security industry is represented here by almost 30 companies.
The magazine offers many interesting articles in which the companies present their product portfolios and also some exhibits and innovations. On this occasion, I would like to highlight the information provided by CSG (EXCALIBUR ARMY, RETIA, TATRA TRUCKS), OMNIPOL, ERA, EVPÚ Defence or CZUB. You will also find here basic information about the autumn FUTURE FORCES exhibition in Prague or the spring 2017 IDET fair in Brno.
The magazine´s exclusive subscriber list includes mainly selected representatives in NATO and EU structures, all Czech embassies and consular offices, defence attachés, senate and parliament committees, leading government representatives, business and industrial partners at home and abroad, and many others.
The next issue will be published in August, on the occasion of the M.S.P.O Kielce 2016 fair, where area-wide distribution will be arranged by the event´s management and our magazine. However, this issue will also appear, along its Czech counterpart, at other major events, including the NATO DAYS in Ostrava and the FUTURE FORCES exhibition in Praha – Letňany. For the first time ever, the MS Line publishing house and the CDIS Review principal media partners of the event for the Czech Republic, and will again be responsible for prizes for the best exhibits, which will be awarded by an international panel of journalists.
On this occasion, I would also like to inform you again about our new activities which have prompted a lot of reactions. These include on-line electronic English and Czech versions of the magazine from where you can click through to websites of companies presented in the magazine.
Dear readers, the editorial team looks forward to meeting you at EUROSATORY from June 13 to June 17 at the MS Line stand, Hall 6, BA 258, close to the main entrance.
Lt-Col (R) Dipl. Eng. Miloš Soukup, Editor-in-Chief
An electronic version of the magazine
: