Review for defence and security industry 1//2019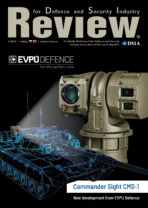 Dear readers,
the first issue of this year, full of news and pieces of interesting information from defence and security companies, has just reached you.
You will read about international successes of Czech companies in a report describing this year´s official participation of the Czech Republic at the IDEX international defence and homeland security fair in Abu Dhabi.
For starters, we have prepared two interviews with top state administration representatives, namely the new Police President, Colonel Jan Švejdar, on main priorities of the Police of the Czech Republic, and the First Deputy Chief of the General Staff of the Czech Armed Forces, Major General Jaromír Zůna, who comments on the current state, plans, and priorities of the Czech Armed Forces.
We are now less than two months from the opening of the 15th IDET fair in Brno, which will display military equipment on a record-sized area this year. Our publishing house is again the principal media partner of the fair for the Czech Republic and, as usual, we are going to publish the special bilingual publication, IDET NEWS, for the occasion, which you can learn more about on Page 37.
We are looking forward to meeting you at IDET!
An electronic version of the magazine
: