Review for defence and security industry 3/2022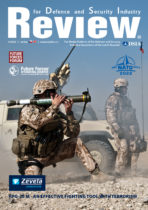 Dear readers,
this edition was published on the occasion of the events held on the 17th-18th September at the Leoš Janáček Airport in Ostrava, the 22nd NATO Days and the 13th Air Force Days of the Czech Republic. Participants from up to 22 countries will arrive for this third weekend of September under the partnership of the North Atlantic Alliance, and this means a record-breaking international participation. And our Publishing House appreciates to be the media partner.
We bring to you interesting articles from the production of companies involved in the security and defence industries of the Czech Republic such as AURA, Omnipol, Tatra Trucks, Česká zbrojovka, Tovek, TONER, EVPÚ Defence, Protect Parts, Explosia, Rubena, LPP or Veletrhy Brno. We have also prepared for you interviews with the head of the Police of the Czech Republic, Maj. Gen. Martin Vondrášek and the director of the top medical facility for aviation personnel, MUDr. Petr Chmátal.
I would also like to mention the upcoming FUTURE FORCES FORUM, held on 19-21 October at PVA EXPO Prague-Letňany, where we are the main media partner for the Czech Republic and would like to invite you to our joint stand with DSIA.
Šárka Cook, editor-in-chief
An electronic version of the magazine
: