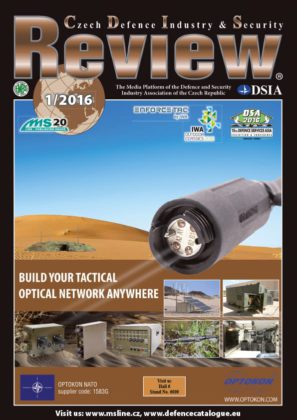 Dear readers,
We would like to thank you for having been with us in 2015; we would also like to thank to members of the Editorial Board and invited guests for turning up in such high numbers at the annual meeting of the Editorial Board of the "Review" magazines and the follow-on friendly party with awards for the best, which took place in January 2016.
We appreciate the fact the event was attended by many leading representatives of government and public administration bodies and top managers of more than 60 leading defence and security companies of the Czech Republic. The meeting was also attended by several Defence Attachés, including, for the first time ever, those of the United States and China. In the year we are commemorating 20 years from the establishment of our publishing house, MS Line s.r.o., the annual meeting was attended by 60 members of the Editorial Board and more than 90 guests. You will find more information about the meeting and those who received awards on Page 28, and especially in the first issue of the Czech "Review for defence and security industry".
Last year was a tough test of endurance and abilities for our publishing house and editorial staff. I think all REVIEW issues, be they in English or Czech, are the best proof of it. I would like to mention, in particular, REVIEW issues dedicated to the IDEX fair in Abu Dhabi, IDET fair in Brno, Interschutz fair in Hannover, MSPO in Kielce, DSEi exhibition in London, or Milipol in Paris.
This year, our editorial team intends to focus on media support of the Czech defence and security industry at events such as IDEB in Bratislava, Eurosatory in Paris, MSPO in Kielce, Future Forces in Prague, and INDO DEFENCE in Jakarta.
The first issue you are holding now concentrates on support of Czech manufacturers and businessmen in the region of southeast Asia during the April 2016 DSA exhibition in Malaysia and ENFORCE TAC and follow-on IWA events, which will take place from March 2 to 3 and from March 4 to 7, respectively, in Nuremberg, Germany.
By way of conclusion, I would like to wish, on behalf of the editorial team of CDIS Review and naturally also on behalf of MS Line, the Czech defence and security industry many development, manufacturing and of course commercial successes in 2016.
Lt-Col (R) Dipl. Eng. Miloš Soukup, Editor-in-Chief
An electronic version of the magazine
: